Download for free today
Fight Wage Inflation With Engagement
Attract and retain talent in a mission driven organization.
Wage inflation affects all employers and increasing total compensation is not the only way to fight its effects. In fact, research shows that several other drivers have a strong impact on attracting and keeping your talent. This resource gives practical ways you can harness the power of engagement to fight wage inflation and keep your outstanding talent.
Learn how to:
Develop sustainable strategies that prevent burnout or chaos

Train and equip your people to perform their roles and create life-giving work
Create career paths that develops outstanding talent
Emphasize work-life balance and other variables to promote healthy people
Implement a winning rewarding compensation strategy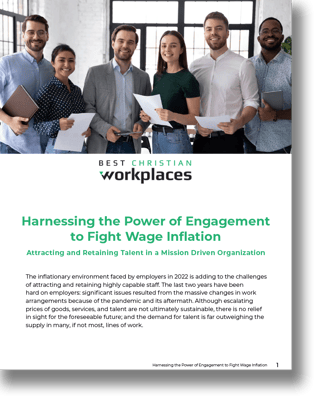 Download Now
Complete the form and your content will be instantly delivered to you.