6 min read
Discipleship: Becoming More Like Jesus and Helping Your Employees to Do the Same

Al Lopus : June, 07 2022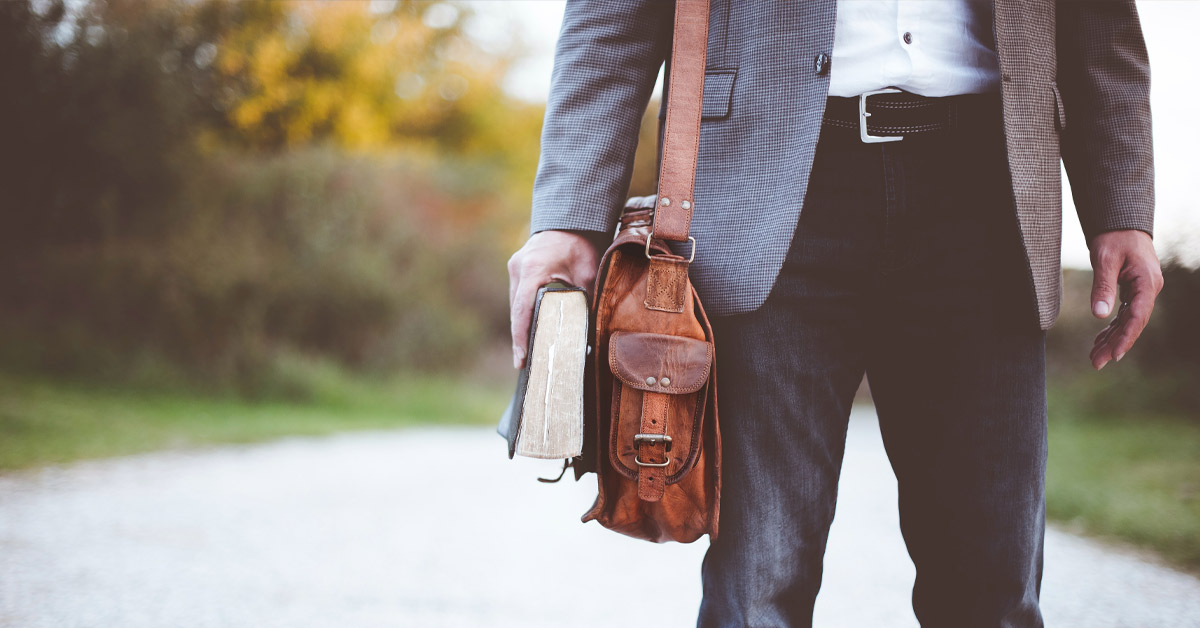 Discipleship: Becoming More Like Jesus and Helping Your Employees to Do the Same
As followers of Jesus, every part of our lives is under his direction, and our growth as disciples infuses all aspects of life. While we may be tempted to separate church-related activities from the rest of our lives, this is a false dichotomy. This means that work can also be a place of discipleship—which is good news since most of us spend more hours working than any other activity.
Christian leaders who are committed to creating a flourishing workplace for the people they influence are engaging in discipleship. They provide growth and accountability opportunities and encourage the people on their team. Such leaders also realize that their own personal and spiritual growth influences their ability to lead well.
Once we shift our thinking about discipleship and realize that our influence and investment in people include our workplace, then a commitment to creating an environment of flourishing becomes a priority in our pursuit of God.
Key Takeaways
Discipleship includes accountability, encouragement, and spiritual growth.
A flourishing workplace is strengthened through a process that includes the steps of discover, build, and grow.
There are clear parallels between discipleship and leaders who are growing themselves and providing uplifting growth for their employees.
Discipleship is a whole-life practice, so separating work life from spiritual growth is not helpful or healthy.
Even in a marketplace setting, Christian values and leadership provide opportunities for employees to grow and flourish.
What is Discipleship?
We can point to Jesus' last instructions to his disciples, after his resurrection and before his ascension into heaven, as the rallying cry for how Jesus wants us to live our lives:
All authority in heaven and on earth has been given to me. Therefore go and make disciples of all nations, baptizing them in the name of the Father and of the Son and of the Holy Spirit, and teaching them to obey everything I have commanded you. And surely I am with you always, to the very end of the age. (Matthew 28:18-20)
This is often called "The Great Commission" and shows that all of us are part of God's plan for bringing the Good News to the whole world. But what does making disciples mean in our day-to-day lives?
Recent research by the Barna Group and The Navigators delved into the issue of discipleship and how to make the practice of disciple-making part of everyday life for Christians. The book Growing Together has come out of this research. Here's how they define discipleship and a disciple-making relationship:
Discipleship, a journey of growth toward Christlikeness, is inevitably and intimately connected to the growth of others. As Jesus said, "Where two or three gather in my name, there am I with them" (Matthew 18:20). Yet while Jesus left a legacy of walking with God in communion with others, many Christians are still traveling solo. We weren't created to do life alone. As you grow in Christ, bring others on the journey.
Barna's research reveals a couple of key ways that discipling occurs. We asked respondents whether they have a relationship with someone (other than a family member) that provides all three of these things:
you hold each other accountable,
you offer each other encouragement and support, and
you help each other to grow spiritually.
We'll speak of this as being discipled or being in a discipleship relationship.
So, discipleship encompasses accountability, encouragement, and spiritual growth.
Discipleship and Workplace Culture
What does discipleship have to do with workplace culture?
The mission of Best Christian Workplaces Institute is to equip and inspire Christian leaders to build a flourishing workplace. This mission translates into action through the road to flourishing framework which has three components:
Discover: Get input from your staff through an Employee Engagement Survey to discover and evaluate your workplace health.
Build: Develop a plan to increase engagement by using targeted resources to work on flourish factors.
Grow: Take effective action and follow-up, including specialized consulting, to grow your workplace health.
In addition to the Employee Engagement Survey, 360 Leadership Reviews are also part of the resources that BCWI offers to Christian leaders to help them grow in leading flourishing workplaces. Accountability is a core piece of receiving and implementing a 360 Leadership Review. Growth starts with a humble attitude that acknowledges blind spots and the need for honest feedback. Then a leader who listens well and receives input from a 360 Leadership Review has the opportunity to acknowledge areas where they want to improve and take practical steps of improvement.
The description of these resources and steps are parallel to the description of discipleship—providing accountability, encouragement, and growth. And for the everyday disciple in the 21st century, more time is spent on work activities than any other part of life, so if workplace culture can contribute to discipleship, that's a positive for the growth of God's kingdom!
The kingdom importance of workplace culture has been clearly articulated by Jeff Lockyer, the lead pastor at Southridge Community Church in St. Catharines, Ontario. Over his years of ministry, Jeff has embodied this conviction as he leads the people under his care in flourishing. His recent book, Finding Our Way: Reclaiming the First-Century Church in the Twenty-First Century, highlights his journey and reinforces the idea of how flourishing is not only good for the workplace but attractive to the world:
The goal of Christ-centred organizations is to reveal Jesus to the world around it and to usher in the realities of the kingdom of God on earth as it is in heaven.
After years of being convinced of the importance of attending to our workplace culture, it's only in the past couple of years that I've grasped the reality that culture is the single most important thing in any ministry, because of my deepest conviction: focusing on culture allows you to experience the kingdom of God on earth as it is in heaven. Attending to your culture is the process of personally becoming more like Christ as you do the work of Christ where you are.
The starting point for building a church that resembles Jesus to a greater degree is becoming a person and leader who's growing in your resemblance to Jesus. More than casting vision, building teams, and developing strategies, becoming more like Jesus and ushering in the reality of the kingdom in your heart and the hearts of those around you is what kingdom leaders exist to do!
This description of leaders who are becoming more like Jesus and helping others do the same gets to the heart of discipleship.
Leaders spend hours investing in their work. Following Jesus isn't a separate part of life, but includes life at work, and in every sphere of influence. As leaders are transformed in their own lives, this flows into their workplace influence. Jeff Lockyer expanded on the idea of how discipleship is connected to employee engagement and a commitment to a flourishing workplace in a BCW podcast:
I think at some level, you're trying to define reality. You're trying to listen. You're trying to discover areas that require change or even areas of sin or dysfunction. You're trying to face those head-on, honestly. You're trying to be confessional about them and admit that they're real. You're trying to make changes, which some would call repenting. You're trying to turn about. And you're trying to remain committed in community. People would call that accountability. And when you take those behaviors—reflection, introspection, analysis, reality testing, confession, honesty, repentance, accountability, community, those are the most basic building blocks of Christian discipleship. They're what it means to follow Jesus.
Discipleship in Workplaces that are not Christian Organizations
How do discipleship and workplace culture apply to other organizations?
To limit discipleship to an activity that happens only in the context of a church or Christian organization is to hold up a very narrow view of God's call on our lives. Certainly, churches should be actively holding people accountable, providing encouragement, and helping people grow spiritually. These are the marks of discipleship discussed at the beginning of this blog based on the research by Barna and The Navigators.
Discipleship is part of the whole life of a follower of Jesus, not just something relegated to a certain set of activities or a scheduled program. So, the marks of discipleship can be evident anywhere and everywhere—in interactions in workplaces, neighborhoods, gyms, book groups, and schools.
In a workplace that is governed by biblical values, providing encouragement and personal growth are part of a healthy culture. This can be true, even if the purpose of the business doesn't necessarily fall into a "Christian" category. A Christian leader in a bank or building contractor can provide an environment that helps people grow and flourish, just as much as a Christian school or mission organization can. The difference is that some employees may not be followers of Jesus, but they can still benefit from leaders who model the character of Christ in a winsome way without forcing spiritual beliefs.
Uplifting Growth
One of the attributes of a flourishing workplace that has been identified by BCW is Uplifting Growth. I describe the essence of uplifting growth in my recent book, the Road to Flourishing: "Uplifting growth is the improvement of individuals, groups, and the whole organization to meet the challenges of a changing world. When employees learn new things, their elevated ability enables the organization to maintain and improve its effectiveness. But the organization also improves because employees are more engaged in what they do."
The value of providing people opportunities to grow is underscored by Troy Meachum, president of an HVAC company. He shares his emphasis on growth in Road to Flourishing: "I believe that if your people aren't growing, your company isn't growing."
Troy invests in the growth of his employees, in a marketplace company. He sees uplifting growth as central to his role as chief executive. He spends about 50 percent of his time on operations and leadership and a full 50 percent of his time mentoring employees one-on-one. He has created a multi-year leadership development program that includes coaching, one-on-one conversations, and discussions of a leadership book and Paul's letter to the Philippians. This content that Troy provides in a workplace setting meets the marks of discipleship that were defined earlier.
We see a clear example of how Jesus actively promoted growth among his own disciples: "We don't have much evidence of his disciples sitting in a living room reading the Bible and sharing how they feel about it. We do have evidence of Jesus modeling, assigning, and coaching his disciples in praying, baptizing, preaching, healing, casting out demons, and feeding thousands of people." (Road to Flourishing)
Next Steps
Evaluate your own outlook on discipleship. Do you separate your life into compartments or are you able to see discipleship and following Jesus as integrated into your whole life?
What is a specific step you can take for accountability, encouragement, or growth in your own life?
How can you offer accountability, encouragement, and growth to those you lead? Put a specific action step on your calendar to move you forward in the process.
As you and your team grow together, what specific steps do you need to take to provide an environment of flourishing in your workplace?